We are committed to providing expert roof construction and personalised service in Moree, Narrabri, Warialda, Mungindi, Walgett, WeeWaa and surrounding areas.
Crawford Roofing provides expert advice and specialised service on the best roofing solutions for you. We have a friendly & experienced team of tradesmen.
We offer a 15 year warranty on our BHP Colorbond and Zincalume Steel. We Always use Australian BHP Steel. (Don't be caught out by the cheap imported steel. It won't stand up against the Australian sun).
Crawford Roofing understands your unique needs and provides professional adivce on the best roofing solutions for you.
Our services include:
New Roofs
Roof Repairs
Guttering and gutter guards
Down pipes
Roof Restoration (Sealing)
Flashings
Insulation
Feedback:
*
I just had a call from Collarenebri Central School whom wanted to pass on the hugest thank you to you.  They were extremely appreciative of the opportunity and advised the experience was great.
Thank you for all of your support this year with work placement.
Kind regards,
Tara Skelton
Workplace Coordinator
Careers Network Inc.
*
On behalf of Moree Secondary College and Careers Network, I would like to take this opportunity to thank you and your staff for hosting our students for their work placement this year. I have enclosed a certificate of appreciation as a token of our thanks for your invaluable support.
Without this support, our students would not have been able to pass their HSC in this subject or gain the wonderful on the job experience that they received.
Yours faithfully,
Elizabeth Pilon
Workplacement Coordinator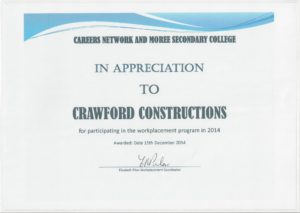 *
Thank you for such a great job.
The crew has been really great.
Thanks Again.
Ben Turner
MHPF Burdekin Business Pty Ltd
*
It all looks great, we are so happy with the roof.
Regards,
Marianne
*
Thanks to you and the men who worked very hard in what could have been only horrible conditions.
Cheers,
Chris
*
We were really impressed by your planning and management, as well as the workmanship of the men. The work was exceptionally neat and we know they had taken the time to get it right, we really appreciated it.
Thanks again,
Jan
*